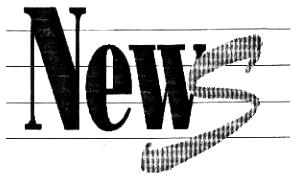 Newz From The Prez
September 1992
The month of months has arrived. Mr. Robert Puff will arrive in the Cities in time for our September meeting. You have heard me say it before and now this is the last time I will be able to say it -- THIS WILL BE THE MEETING OF THE YEAR. You will not want to miss this event, it will be a landmark meeting for owners of the ATARI computer.
Enclosed in this issue of the newsletter is a copy of a map to the Radisson South Hotel where the meeting will be held. If you have ANY further questions regarding how to get there, please feel free to call me personally. The Radisson South is extremely close to where I live and I am sure I can give you adequate directions. It also might be wise to bring some spending money since Mr. Puff will be bringing some of his company's hardware to sell at the meeting.
After all is said and done, the raffle was a success. We didn't sell as many tickets as I had hoped we would, but we did sell enough to bring Mr. Puff in, so we accomplished our mission. A big thank you is in order to anyone who bought or sold raffle tickets, you made this event possible.
Coming up are elections and our annual Christmas bash which hopefully you are looking forward to. In the meantime, I hope you are making special plans to be here on September 11th for the most important SPACE meeting in recent years.
Your president,
Nathan Block
---
Next SPACE Meeting Is
Sept. 11th, 1992
Radisson South Hotel
Bloomington, Mn.
---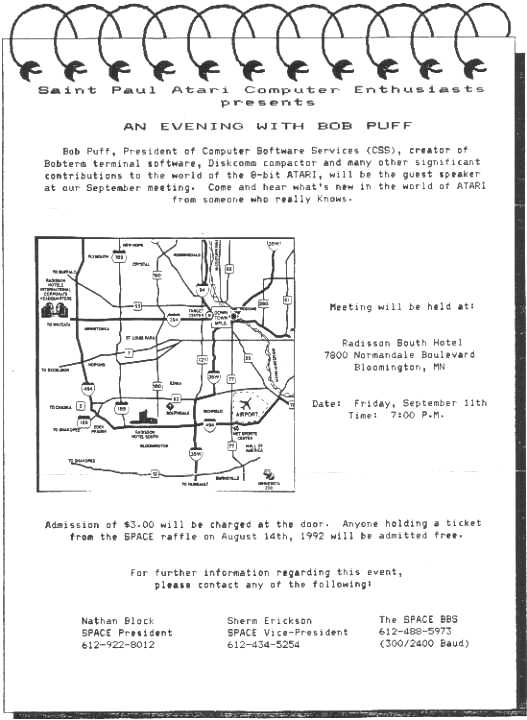 ---
From the Editor:
The following articles from Mike Weist and Larry Serflaten did not get in the newsletter last month. We need more articles from our members.
---
***10th Birthday of SPACE***
Well, what can I say, another great birthday party because of the officers and the members making it a great party. This event saw 50 people showing up. We gained two new members.
Highlights of the party were the reconization of special people that put a special effort towards the party and other club efforts. This was done by our president Nathan Block.
Another thing was a favorite of past parties. It was the president's trivia contest. The people were split up in two groups. Each group were asked atari computer questions. Every person on the winning side won a nice gift. They got to choose from a big box of new software. I was lucky I was on the winning side. Oh how fun this trivia contest is. One thing that bothers me is I hope our president doesn't run out of trivia questions for future parties.
I think the biggest highlight of the party had to be shorty's lasagna, which was heavenly. The other food was great too. Thanks everyone!
Also a raffle took place which raised money for the bob puff visit. We had a few past SPACE members pay us a visit. Good to see you again Dave Cole.
Well anyway to end this, I would like to say--see you in august for another exciting space meeting.
Mike Weist
---
Amateur show July '92
There was the Midwinter Madness show in the winter at Blaine Sports center. Then there was the Amateur show at aldrich arena, which was held on july 11, 1992.
The space booth was manned by our sysop, Larry Serflatten; DOM librarian, Joe Danko; newsletter editor, Mike Schmidt; and me.
At this show however, the flea market was kind of bare of ATARI equipment bargains. But I did get a good deal on printer paper I can't complain about. Plus I picked up other bargains like a cordless phone and a phone answering system. I had a chance to talk to lots of people behind the booth and in the flea market. Larry had a opportunity to talk to many interesting people including a computer engineer. It was very interesting to listen to the conversation that went on between the two.
We talked to lots of people, sold some club space disks, gave people applications and information about the club. Plus we sold a few raffle tickets for the Bob Puff visit. It was a treat to work with the SPACE gang at the show.
Didn't see any space club members stop by. I am sure you would of had a fun time at the show and possibly found some bargains for yourself. I kind of feel space members miss a good time by not working at the space booth, but I don't pass up having a good time. Anyway the hamfest will be in the fall. It will be October 31, 1992 at the St. Paul Civic Center. See you there gang!
Oh before I forget, thanks Mike for lugging the computer equipment into the show and Joe for lugging the disc box and the other stuff into the show.
Mike Weist
---
Vacation with ATARI

I remember in February '91 I was aboard a plane on my way to California to visit my brother for a week. Along with my luggage, I had brought a Compute magazine and an ATARI handbook. Let me explain, the ATARI handbook was given to me by Mike Schmidt, to help me as a member how to understand my computer, understand ATARI computer commands, and programming. The compute magazine had a article about a ATARI laptop computer.

It was funny reading this article on this ATARI laptop computer because next to me was a General Motors employee , who was using a laptop computer. It wasn't an ATARI, but it was interesting to look at. I think it was a Japanese made laptop. The laptop I was reading about was a ATARI, but it couldn't use our 5 1/4 inch discs we commonly use on our systems, it used the 3 1/4 hard disks. I thought to my self wouldn't It be nice to have a laptop to use our discs when you were on vacation or on the move. I thought that would be nice.

Recently, like a lot of people, I planned my 4th of july vacation. My vacation involved a lot of driving up north to visit people. On my return trip back to the cities I stopped at a campground to visit a friend and his family. What happens at a campground. Fishing, swimming, relaxing, bbq'ing. A lot of fun right? Did I forget anything? Yes I did! My friend also had his atari computer with him including a 1050 disc drive, a monitor, and a box of discs. Hey, everything fit in a few small boxes. Didn't take up much room in his vehicle. Boy, did we have a fun time sitting in the cabin relaxing and enjoying some computing. It isn't a laptop, but it can come along with you on vacation and you can enjoy your computer away from home. I bet your family's relatives and friends would have fun too if you decide to travel out of state to visit them and you brought it along. Well any way, it was a good time for me, a different way to enjoy myself.

Mike Weist
---
LEAD BY EXAMPLE: by Larry Serflaten:
During June, SPACE BBS held a programming contest. Prizes were announced to be be awarded to different age groups. Contestants had one month to create a program for judging. At the award meeting, there was only one entry to be judged.
Do any of you remember your mother saying- "Go outside and play" -? What did she expect you to do? Playing helps to use our individual talents at top performance levels. Of course she might have simply meant, GET LOST!
Here was an opportunity to do something entirely new. Using mans greatest tool so far devised, go out and have fun, and write a program. One responded.
A growing mind needs to tap creativity and strengthen conceptualizations to develop a firm grasp of the world around us. Without creativity, we are simply repeating somebody elses accomplishments. Copying does not recognize our unique individuality, or carry as great a satisfaction as bringing forth something new.
We know ATARI isn't the biggest player out there. But learning programming on one machine may lead to knowledge of other machines in the same class. We cant all be expert programmers, even if we don't earn money at it, it still is a language that is a valuable asset in syntax discipline. The ability to say what you mean, depends partly on your knowledge of the English language and your ability to order your words correctly.
Encourage more programming, especially those who own ATARI, and get the younger crowd involved. Some may prefer making pictures, others music. A few may want to connect to other computers and also to other as yet unheard of devices.
To you it may only be a hobby. But because the age of computers has not yet matured, it would be worth the effort to prod the next generation to hurry it along...
---

St. Paul Atari Computer Enthusiasts
-----------------------------------
         Meeting Minutes
           August, 1991

       The Last Meeting Was:

         ****************
         *Dessert Night!*
         ****************

SLURP! There was about 35 people at Dessert Night. They had delicious desserts for sale including:

        Orange Drink: $.10
     Ice Cream Cones: $.50
             Sundays: $1.00

It was also Raffle Ticket night. Many People won different prizes. The main prize was a T.V. set which was won by Joe Danko. We have sold over $600 in Raffle Tickets. Congratulations to everybody on an outstanding job selling Raffle Tickets. The most Raffle Tickets were sold by Nathans Father.
Nathan talked about signing up for an 8-Bit magazine for $6 a year. Club member and Disk Librarian Joe Danko will be making them available for a DOM in the future.
Next month:

+-----------------------------------+
|***   **  ***   ***  *  * **** ****|
|*  * *  * *  *  *  * *  * *    *   |
|*  * *  * *  *  *  * *  * *    *   |
|***  *  * ***   ***  *  * ***  *** |
|*  * *  * *  *  *    *  * *    *   |
|*  * *  * *  *  *    *  * *    *   |
|***   **  ***   *    **** *    *   |
+-----------------------------------+

Bob Puff, the President of C.S.S. will be at our next meeting, which will be held at the Bloomington Radison Hotel. So be there or be SQUARE!
---

Here's the answer to the July word search:

Title: STATE CAPITALS

- - - - - - - - - - - - - - - - - P         
D O V E R - - - - - - P I E R R E H         
- - - - - - - - - E - - - - - - - O         
- - - - - - - - - - F - - - - - - E         
- - - - - - - - - - - A M - - - - N         
- - - - - A G - A - - E T - - - - I         
- - - - U N - - - N L - - N - - - X         
- - - S I - - - - A E - - - A - - -         
A - T S - - - - S - - L - - - S - -         
- I N - T - - - - - - - E - - - - -         
N A P - - P - - - - - D U H - B - -         
L - - M - - A - - - - A E - - O - N         
- - - - Y - - U - - E - - N - I - O         
- - - - - L - - L N - - - - V S - T         
- M A D I S O N U - - - - - - E - S         
- - - - - - - J - - - - - - - - R O         
- - - - - - - - - - - - - - - - - B         
- - - - - - - - - - - - - - - - - -       
Words in puzzle:

OLYMPIA   LANSING  MADISON  PHOENIX  DOVER
SANTA FE  JUNEAU   AUSTIN   PIERRE   SALEM
BOSTON    DENVER   HELENA   ST PAUL  BOISE

Here is this months installment of word search.  This month it is PAYDAY.

  L Z M U C V D O O M S D A Y U O O P
  K P U M I P H O L I D A Y F N W W M
  C J A P I T U Y S H B P C E D T S F
  A P K Y P F P P A L D B P K E G K S
  B F A D M P M Z O D K J G B R P O F
  Y R L E Z A O V H W R A U P P R O R
  A Y U B D R S L R X E E T F A V N I
  P G Y Y X G E T T N R C T F Y T M D
  A F A A R A I M E H S E C S G L B A
  K H D D W G L V A R E P Y R E S F Y
  Z S D R Y O A L P E H Y O A T Y E J
  H Z I R N Y H T R U R A D Z P X D H
  X Q M G A F A O E L I D L A F X J L
  M W L P I E U H P K U M Y O Y U A H
  T E A N W I D M A K A X X A Y S D T
  N P V W M C S N Y I A K I M D A P D
  Q S S Z Z B I W I K D G N G Y A P L
  N W A V G Y R H V X H N R W X T Q Z

Words in puzzle:

DAYDREAMER  HEYDAY  FRIDAY  PAYMASTER
YESTERDAY   MIDDAY  PAYOLA  TAXPAYER
UNDERPAY    DAYBED  PAPAYA  DOOMSDAY
PAYBACK     PREPAY  HOLIDAY

---
Return to the SPACE Home Page

Maintained by Michael Current, mcurrent@carleton.edu
Last updated: Saturday, April 13, 2002
URL:http://www.library.carleton.edu/space/news9209.html